Advance Ohio provides advertising and marketing services to all kinds of businesses to help them find new customers and boost business.
There has never been a more important time to be visible to searchers online. Businesses which are doing SEO should keep going, and those which are not should consider starting now.
Understanding the challenge. In a recent survey of the economic experts that make up the IGM Forum, almost half responded that the COVID-19 pandemic is likely to cause a major recession, primarily because of reduced consumer spending.
Eighty-nine percent of U.S. businesses with employees have fewer than 20 employees, according to the Census Bureau's 2016 Annual Survey of Entrepreneurs.
Tens of thousands of U.S. businesses have closed (hopefully temporarily) or are operating on a much smaller scale. Businesses that depend on foot traffic have seen the most dramatic drop in sales. A partial list includes:
Restaurants
Private event venues and event managers
Wedding-related businesses
Restaurants and pubs
Retail stores except those deemed essential
Salons
Hotels and other travel-related businesses
Dentists and orthodontists
Everyone is hoping for a return to normalcy as soon as possible, but the disruption will last for a few months at least. Some of these businesses can pivot and salvage a portion of that lost revenue by serving customers online or via pickup and delivery of products. Those businesses may be able to continue operating and set themselves up for a faster recovery in the future. The key is to work on their online visibility. 
So, what is online visibility? 
A business has good online visibility if they can easily be found in search and social media. There are specific strategies for getting found in organic and local (maps) search in the current climate. If a business' website doesn't show up well in search, they may not be considered by the consumer who is researching the product or service they need. This is more important now than ever before. Businesses that are highly visible to consumers will be in position to provide them now. And looking at the big picture, businesses that retain their overall visibility online will be able to rebound faster when things get back to normal. It's important to note the difference between organic search and paid search.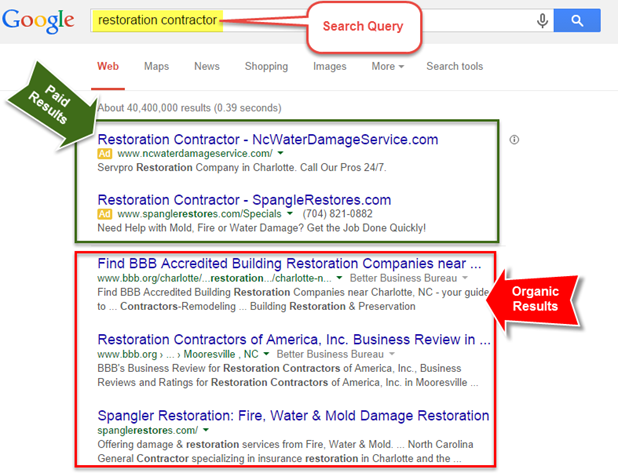 Organic Search
One of the most important ways to be visible online is through organic search results. Just over 45% of Google searches on desktop and mobile combined result in clicks to non-Google websites such as a business site, and about 41% of those clicks are from organic search, according to a 2019 study by Jumpshot / SparkToro. 
Organic search helps most when customers are researching and considering alternatives, and paid search helps most as customers get ready to take action. Note the graph, below: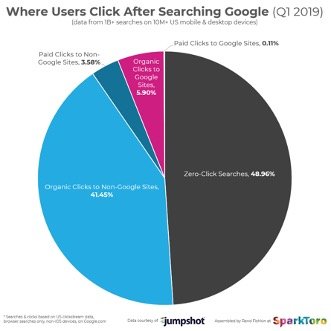 How businesses can re-align with changes in search intent
Consumers often turn to search to meet one of four types of desires (called Micro-Moments by Google):  I want to know, I want to go, I want to do, I want to buy.
But what happens when few consumers "want to go" right now?
Businesses and the marketers that help them can watch how searches are changing for clues about how to meet customers where they are. Using Google Trends, we know that searchers who "want to go" are now searching for online concerts, meetings, and entertainment to pass the time, and some are searching for places to go when things are back to normal. Think about these trends and how you can apply them to your search strategy.
For businesses that are ready, here are some tips for getting and staying visible online:
Retool for currently available offerings.  Businesses which cannot operate their retail stores or offices but can offer pickup and/or delivery have a way to continue making money, with some effort.
Keep local presence strong.  Changes in hours or available offerings need to be correctly updated in Google My Business and other listings. Doing this wrong causes poor location trust from search engines like Google, which impacts local search rankings.
Take advantage of slackening competition. With many businesses slowing down or stopping their SEO during this time, those that keep pushing will outpace them in just a few months.
Avoid sliding backwards because SEO was stopped. It's the law of entropy – things like links and business listings naturally break down over time. Only consistent work on regular basis will maintain a website's authority and relevance.  
Prepare for the tidal wave. Once people have returned to work and can travel, there will be enormous pent-up demand as consumers start making those purchases they have been putting off. Having a prominent place in search results means being considered earlier and more often.
Invest in the future.  SEO isn't something you can simply "pause" and resume later without disruption. There is a lag effect after the work is done to a website before it shows up more prominently in search.  Continuing to work on content and backlinks will stabilize search-based revenue months down the road.
Continue to reach customers with buying intent.  Having good rankings in search results is the best way to reach consumers with buying intent. More than 40% of clicks from Google to business websites are from organic search results. When combined with the fast visibility Paid Search provides, businesses are well-positioned to get higher conversions.
Visit this link to learn more about SEO for your business!
Companies that focus on these details will find opportunity even in challenging times and for a long time afterward. Advance Ohio's digital marketing experts can help you adjust you strategy for a successful future – contact us today!