The student decision journey isn't linear. It's rife with influences from all of the opinionated adults in their circle of influence. You want to work with a partner that understands how to engage your next student, increase applications, enrollment yield, student retention and alumni engagement.
Marketing for Education Has Changed
New Students Must Convert Multiple Times Before Day One
Students must know to research your institution. With great branding and audience sentiment, this is possible. But marketing for conversion as an RFI, campus visit, application, and enrollment take surgical methods, not broad strokes. Post-enrollment tactics are also critical, ensuring enrollment yields are at their healthiest.
Is your team sharp?
Let Us Help with Regularly Scheduled, Free Virtual Trainings
Gain Actionable Insights for your Marketing Team
Better Understand Strategies used by Agencies to Gain an Edge
Make Better Decisions about Traditional and Digital
Make your Social Media Plan Smarter
Create a Post Enrollment Strategy for Retention
REGISTER FOR ON-DEMAND WEBINAR HERE: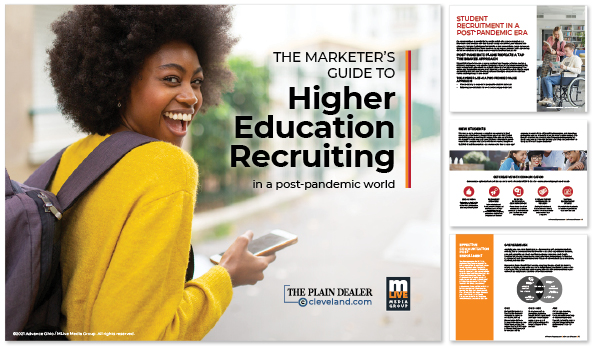 A Free E-Book will be provided to all participants, and there is no obligation to become a client of our firm. These webinars will be hosted by marketing strategists in Ohio and Michigan, but is open to any college, university, or educational institution.
Accelerate Intent
Students are researching programs, schools, even reputation. Every search provides hints about the questions they have. Your site and marketing materials must answer those questions, and harvest information to advise your marketing.
Digital & Traditional Marketing Methods
It's tempting to buy billboards, after seeing your competition in plain sight. But a smart strategy places the right message in the palm of your future student, best using the technology to reach them and only them, eliminating unnecessary waste in spend.
Recruitment
in the Era – and Aftermath of a Pandemic
This global health crisis will have lasting effects on how you do business. It will also change how you reach your students and what will influence their parents.
We Generate Results
How we do business matters. We use technology to make us smarter and our campaigns sharper. We deploy omni-channel strategies that outperform and underspend what schools have used in the past. And we do it with expert teams, organized by your account executive so you have the answers to questions quickly.
Hear What Our Clients Think of Us