Regular trend analysis is important in any business but especially when building a marketing strategy. An audit of this kind helps your company know what points you are touching on well and what needs more attention. Quality trend analysis drives efficiency in your tactics, helping ensure your organization stays future-proof.
Trend Analysis in Healthcare
In the healthcare vertical, research shows what trends are driving growth and change.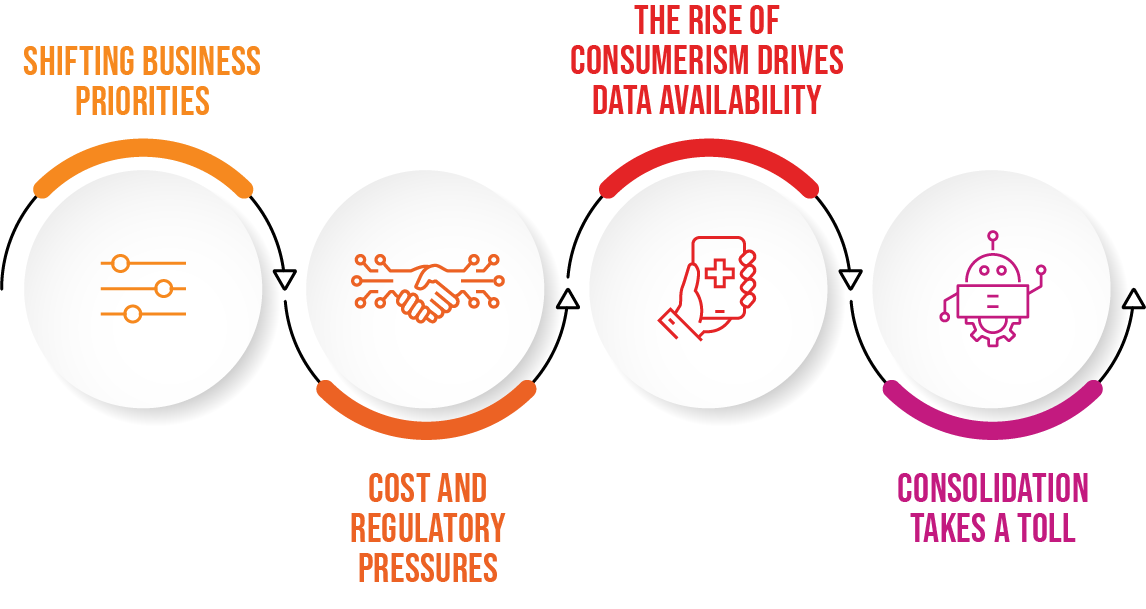 Shifting Business Priorities
Evidence of shifts are everywhere, and include a move towards value-based care, increased digitization, cost pressures and the rise of consumerism, and hospital and provider consolidation.  Pay-for-performance in the healthcare industry means that it is incredibly important to utilize IT to increase efficiency. Patients are demanding real-time clinical and financial data to ensure they are making informed decisions for themselves and their families. As a result, health systems are becoming more state-of-the-art, focusing on tracking patient biometric and longitudinal data. Patients have expressed the need to engage with data more easily about their health, and providers are responding.

Cost and Regulatory Pressures
Outpatient services—everything from diagnosis, to observation, consultation, treatment, intervention, and rehabilitation services—are increasingly in demand as they provide lower-cost care alternatives that link with hospitals through integrated hospital information technologies. Cost pressure is an issue exacerbated by the pandemic and answered by outpatient services. Together with increasing regulatory pressures, certain payment requirements are driving reimbursements lower. As a result, payers and providers have been reducing costs through automation, streamlined decision-making and standardization.

The Rise of Consumerism Drives data Availability
With larger fees for service shifted to the consumer/patient, there is an increased use of automated consumer tools like pricing/results information, medical history, and e commerce.

Consolidation Takes a Toll
Lastly, hospital and provider groups have to be ready to tackle the challenge of smoothly integrating IT systems when consolidations occur. This capital expense is driving the price of mergers and acquisitions to the patients.
All of these trends should be considered when developing healthcare marketing. Campaigns must  communicate to patients that your organization understands what is most important to them. Acute attention to these trends in your brand message and chosen tactics will ensure that you are an industry leader, rather than a follower.

Contributed by Sky Brown, Account Executive