When attracting and converting students for higher education institutions is your goal, social media advertising is a natural choice. Not only do the social media platforms fit into the students every day online journey, but they also present cost effective ways of moving students through the funnel from discovery to enrollment.
Within the world of social media, there are many different platforms to choose from. We've found the different platforms can be helpful at different stages of the journey and with different students.
Facebook
• Total US: 223M
• Ages 16-24: 53M
As the biggest social media platform in the world – over 223 million users in the U.S. alone – Facebook presents a big opportunity for advertisers. Despite its roots as an .edu-only environment, Facebook has grown tremendously among every generation. This expansion to an older audience sometimes raises advertisers' concern about whether teens use the platform. The reality is that teens are not abandoning Facebook, but they are using it in conjunction with other platforms. Conversion and click-through rates with these students are still very strong, but are typically higher when paired with other platforms that give further context.
Instagram
• Total US: 112M
• Ages 16-24: 25M
Instagram is one of our most popular and effective platforms for teens. The format is the best for discovery when compared to other social platforms, and it has the benefits of Facebook ownership along with a robust 112 million monthly users in the U.S. With this platform, compared to Facebook, the creative becomes increasingly important, as do different placements. Utilizing reels, videos, stories and eye-catching photography and graphics make a big difference in terms of engagement rate, which will bring you new users and further engage those already part of your ecosystem. It is important to be active and creative on Instagram in a paid capacity as well as organically. Every post in your social media channels should focus on student recruitment, even when done subtly.
LinkedIn
• Total US: 117M
• Ages 16-24: 19M
LinkedIn presents a great opportunity for graduate enrollment and continued education. With its specific targeting related to companies, industries, job titles and degrees, LinkedIn means you are talking specifically to those looking to advance their careers in a more professional platform. From a user behavior standpoint, there is less time spent on LinkedIn compared to many other platforms, which can result in limited inventory and increased costs. That said, the customized placements and relevance of targeting make LinkedIn a valuable tool for many higher education institutions.
Snapchat
• Total US: 46M
• Ages 16-24: 23M
A relative newcomer to the social media advertising world is Snapchat. With 46 million users in the U.S., it does not have the reach that Facebook and Instagram do, but it does have a high percentage of teenage and 20-something users. This audience is a prime opportunity for conversion. Creative is incredibly important on this video-first platform, as is speed of message. With a population trained to skip ads quickly with the touch of the screen, it's important to get the users' attention within the first second and provide very clear branding and messaging. As a result, Snapchat traditionally serves best as a branding strategy, supporting lifestyle and branding messaging and building the frequency users see your ads.
TikTok
• Total US: 66M
• Ages 16-24: 23M
TikTok has been a cultural movement, generating headlines, pop culture trends and even launching careers of influencers. Like many social media platforms, its adoption was driven mostly by teens, making it an ideal platform to reach potential students. As with Snapchat, video is king on this platform, but TikTok ads take it a step further by embracing the influencer and organic marketing trends. The most successful TikTok ads feel organic to the platform and generally jump on trends utilizing the hashtags and sounds that are trending on the platform organically. The video format and influencer feel give higher education the chance to connect with students by giving potential students the opportunity to peek into the life of a student. While TikTok's advertising platform is getting better and more accessible to smaller advertisers, it can still be difficult to scale for efficiency and incredibly competitive due to a relative lack of inventory. In the meantime, however, it also serves as an ideal organic platform to drive student engagement.
Get Creative
Keeping with the spirit of social media advertising, creative plays an important part on all platforms. With platforms like Facebook, Instagram and LinkedIn, running a mix of creative (images, carousels, videos, etc.) allows the platform to serve the people most likely to engage with it. Snapchat and TikTok are primarily video-first platforms that serve a more limited scope of placements, primarily vertical mobile videos. The common theme across all platforms, however, is the spirit of the creative. Images or videos showing people generally perform the strongest. Aspirational, lifestyle focused creative also increases ad engagement.
How to use hashtags
Proper hashtag use can be a frustrating question for many because it differs dramatically from platform to platform. So, what is the right answer?
Facebook:
The short answer is that Facebook is not set up to be a hashtag friendly environment. While they do work as a sortable tool, their primary use to present new, discoverable content does not fit in Facebook's user experience. As a result, hashtags are not as important or impactful on this platform. Exceptions to this rule are brands with a unified hashtag, which is best used when integrated into the ad copy as opposed to listed at the end.
Instagram:
Instagram is set up perfectly for hashtags and their use is incredibly important in growing a following and increasing engagement. In fact, a post with at least one Instagram hashtag averages over 12% more engagement than those without. Because hashtags are meant to allow users to discover content relevant to them and their interests, using a hashtag means the opportunity to grow your audience with every post. Developing a hashtag strategy that includes trending hashtags across the platform as well as custom hashtags you've developed for your institution work together to find success. You can use up to 30 hashtags on an Instagram post, giving you many options.
LinkedIn:
Like the platform in general, LinkedIn hashtags are more niche. Limit your hashtag use on this platform to the types of content those are searching for such as industry trends and terminology.
Snapchat:
Currently, Snapchat does not utilize hashtags.
TikTok:
TikTok can likely be considered the hashtag king at the moment. With the nature of the user experience on the platform, discovery is critically important and hashtags are the way to do that. Hashtags drive the content seen by the viewers and drive the trends of the content that creators are making on the platform. Each trend on the platform (for example, #FliptheSwitch or #IceBucketChallenge), gets its own hashtag and this is where the opportunity presents itself for brands to jump on the trend themselves. You can use up to 33 hashtags on TikTok and, because the video content is king and captions are secondary, feel free to use as many as you like. The sounds on TikTok, like Instagram Reels, are searchable as well, so choosing your sounds carefully and utilizing trending sounds are another way to harness the organic engagement of the platform.
The
Takeaway
Social media advertising presents an incredible opportunity for higher education institutions to engage with potential students in places they already spend their time. Organic efforts and paid strategies go hand in hand to create holistic strategies that move students through the different stages of the funnel. A proper mix of different platforms also ensures coverage for the complex goals of higher education.
Contributed by Anne Cook, Social Media Strategist
IS YOUR TEAM SHARP?
Let Us Help with Regularly Scheduled, Free Virtual Trainings
Gain Actionable Insights for your Marketing Team
Better Understand Strategies used by Agencies to Gain an Edge
Make Better Decisions about Traditional and Digital
Make your Social Media Plan Smarter
Create a Post Enrollment Strategy for Retention
REGISTER FOR ON-DEMAND WEBINAR HERE: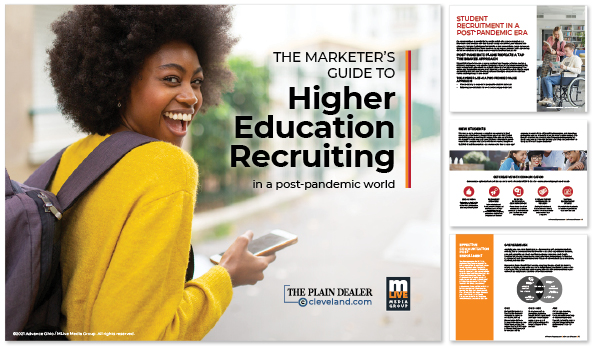 A Free E-Book will be provided to all participants, and there is no obligation to become a client of our firm. These webinars will be hosted by marketing strategists in Michigan and Ohio, but is open to any college, university, or educational institution.