CREATE CROSS-PLATFORM CAMPAIGNS THAT DELIVER RESULTS
Why Digital vs Traditional Marketing Efforts Are Necessary For Success
In a post-COVID world, the pool of prospective students has changed. Prospective students could be people looking for a career change, students displaced from other schools, or individuals who are looking to go back to school after being in the workforce. It is now more important than ever to create smart, cost-effective marketing strategies to help maximize your recruiting efforts.
In a time where competition is high and marketing budgets are being cut, nothing is more cost-effective than a digital campaign. For the cost of a traditional outdoor billboard campaign, you can deliver millions of impressions digitally – with the added benefit of gaining real insights into the audience that saw and engaged with your advertising. Digital tracking and analytics are key to determining success and calculating return on investment (ROI) of your campaigns.
USING DIGITAL DATA TO FIND YOUR IDEAL AUDIENCE
Before you can begin a successful campaign, you must first start with identifying your audience. Who are they? What does their decision-making cycle look like, and how can we reach them at each stage? What type of messages do they respond to, and what information are they seeking?
Many times, we see marketing teams lean on anecdotal ideas to create student personas to help craft audiences for their campaigns. While this can help humanize a mass audience, it does not allow for marketing campaigns to adjust and meet the individual journeys of future students. Instead, it is best to utilize real data to craft audiences and use digital tracking to allow the campaign to deliver results based on individual student behaviors.
This can sound overwhelming, but it is simple. If you launch campaigns where messaging can be guided by user behavior, you will gain a deeper understanding of audience behavior, optimize for best performing platform or message, and make connections in real time.
A HEALTHY WEBSITE CREATES AUDIENCE SEGMENTATION OPPORTUNITIES
Before you can launch a digital campaign, getting your website in order is crucial. Write engaging content that highlights educational offerings, campus culture, and the benefits of selecting your particular school. Use a data management platform and/or Google Analytics to set up:
Event and Goal Tracking: What content are prospective students interacting with?
Custom Conversions: What actions are future students taking on the site?
In-Bound Link Tracking: Where are potential students coming from?
Identifying and using this behavior tracking to create audience segmentation and multi-channel attribution allows for engaging and targeted marketing to interested students.
CROSS-PLATFORM CAMPAIGN SUCCESS
Each student is on a unique decision-making journey. They receive messages that best resonate with their interests, across multiple platforms, and match their place in the funnel.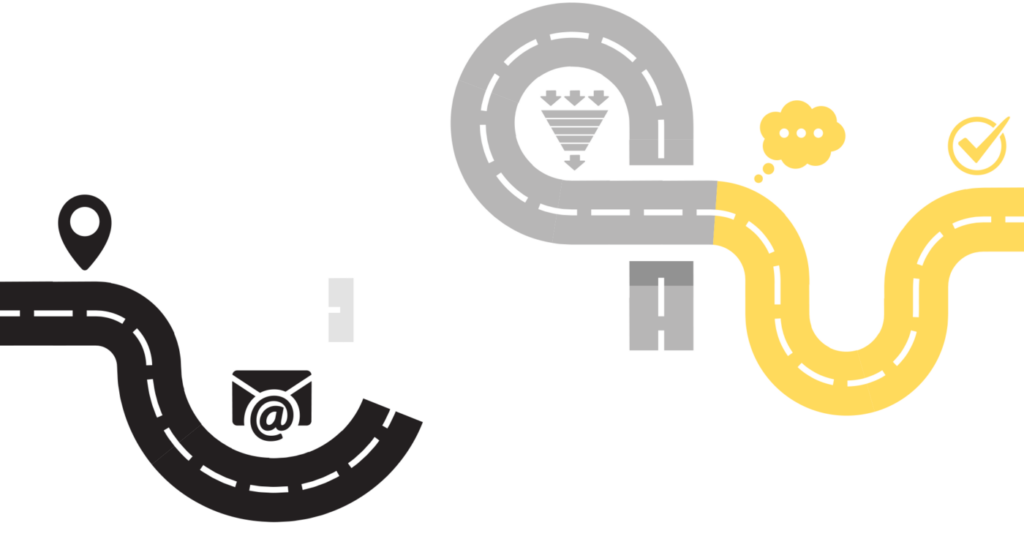 IS YOUR TEAM SHARP?
Let Us Help with Regularly Scheduled, Free Virtual Trainings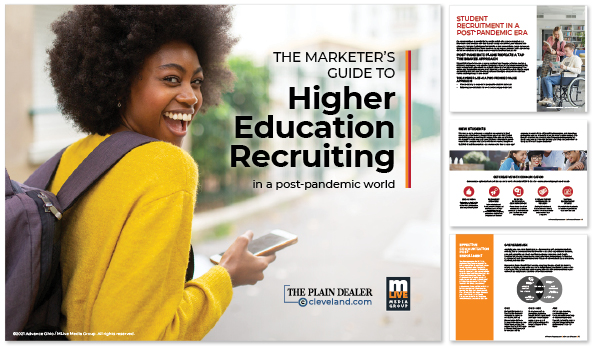 A Free E-Book will be provided to all participants, and there is no obligation to become a client of our firm. These webinars will be hosted by marketing strategists in Michigan and Ohio, but is open to any college, university, or educational institution.
STUDENT A
Student A sees a "Don't Forget to Apply" message on Facebook because they started to fill out an application but have not submitted. They also see an OTT video ad highlighting campus life because they attended a virtual campus visit but have not attended an in-person campus tour. This student then sees an ad for your school while searching for another rival school, recalls the campus video and returns to your site to finish their application.
STUDENT B
Student B sees the same "Don't Forget to Apply" message on Facebook. They also received an email from the School of Nursing because they searched for nursing schools near their hometown and then read about your nursing program and even signed up to watch a live stream of a professor's lecture on your Youtube channel. This student clicks on the application reminder Facebook ad, remembers that they left their application uncompleted, and returns to your site to finish and submit.
STUDENT C
Student C sees a Facebook ad that says "Congratulations on your admission! Enroll Now," because they have been admitted but have taken no steps to complete their enrollment. They also see the video highlighting campus life video on Instagram because they have not yet attended a virtual campus visit. This student decides to schedule a virtual campus visit to be sure it fits their location preferences and has the atmosphere they are looking for in a higher education institution.
Use Traditional Marketing Wisely
Traditional marketing tools are not obsolete. While methods are often costly and are not as easily trackable, they do have a place in a holistic marketing plan.
Direct mail is a tool used by almost every education institution in the country – mailing out millions of brochures and student packets. These materials are expensive to develop and distribute but do serve a purpose within the enrollment process. They lend credibility and are a great way to engage with Decision Influencers – parents, high school faculty, etc. However, utilizing digital marketing efforts to whittle down your potential audience to the most likely and highly engaged students can help lower the cost of traditional direct mail marketing.
Creating a way to track responses from traditional marketing efforts is always important to a successful marketing campaign. Utilizing call tracking on phone numbers and customized URLs within these materials can help you see the ROI. Without them, you will be guessing at what is successful and if the strategies are worth the share of your marketing budget.
Contributed by Kate Mudgett, Content Marketing Manager.