THE CHALLENGE
Our client, a local fudge company, came to us looking to grow their business, promote their brand, and most importantly generate more business leads. They were looking for a unique, easy, and affordable way to achieve this through digital display advertising and email communication.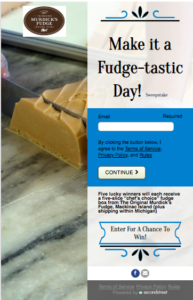 THE STRATEGY
After consulting with our client, we helped them understand the great power that was held in their best product: their delicious original fudge. We identified a sweepstakes promotion that would help them achieve the goals they were striving for, offering 5 free slices of their original fudge to the local winner. The sweepstakes was promoted digitally, touting the giveaway, inviting the audience to enter to win. But the real results came when an email communication was sent to our readers.
The sweepstakes opened on December 6, and included an email blast to an approximate 65,000 person audience.
THE SWEEPSTAKES WAS ENTERED BY
3,700+
INDIVIDUALS AROUND THE UNITED STATES
70%
OF THOSE APPROVED FUTURE COMMUNICATION FROM THE BUSINESS