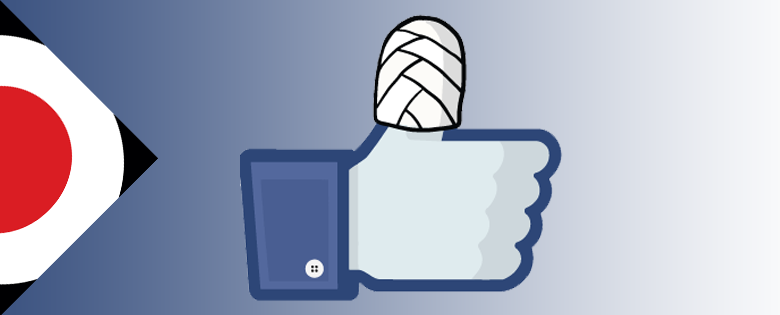 By Elise Yahner
Facebook ads are a powerful marketing tool—if you use them correctly. Because you can get started with Facebook ads for as little as $5, and anyone can start running ads for their page at any time, there's a lot of room for rookie mistakes. Before you start running Facebook ads, do your research. Take some Facebook Blueprint courses, speak with a Facebook advertising expert, or read some articles on Facebook advertising. But if you already started running Facebook ads and they aren't performing as well as you'd like, these could be the causes.
You're using Boosted Posts instead of Facebook Ads Manager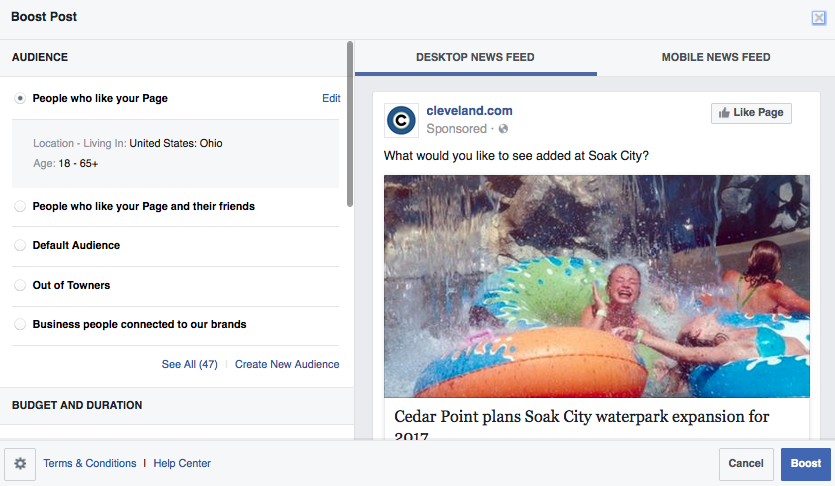 If you manage a Facebook page, you'll see a "Boost Post" button next to all the posts on your timeline. Click it, and you have the option to set your audience and budget to give your post some extra reach. This is a good place to start, but if you really want to see results, graduate to Facebook Ads Manager. Anyone with a Facebook page can use this and it gives you access to many more ad placements, ad objectives, and audiences. For example, boosted posts only show up on Facebook's desktop and mobile news feed. In Facebook ads manager, your ads can run on the desktop and mobile news feed, as well as the desktop right column, Instagram, and Facebook's Audience Network. More placement opportunities mean your ads have a better chance of reaching more people.
You aren't using all the ad placements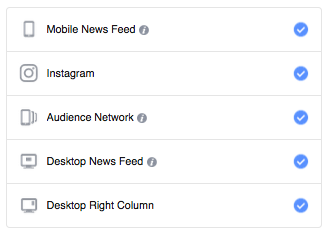 If you are using Ads Manager, that's great! But if you are narrowing your ad placement to one or two spots, reconsider. Facebook optimizes your ads so you get the best performance, so it's in your best interest to let your ads run in all the ad placements available. Facebook won't divide your budget evenly among the ad placements—it will shift your spend automatically based on which placement is performing best.
You need different creative
If you've noticed dwindling performance on your Facebook ads, your creative might be stale. Switch up your ad creative every month, and set up your ads with a variety of creative options for Facebook to optimize against. Also, make sure the creative in your ads is something you would want to see in your Facebook news feed. Your competition isn't other ads—it's posts from family and friends about cat videos, baby announcements, parties, etc. Make sure the images you use aren't too corporate or text-heavy. A/B test different images with the same copy to find out what works best for your brand.
Your targeting is off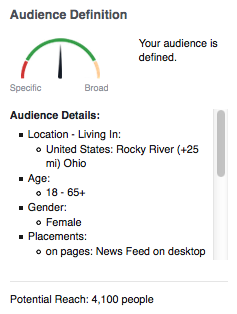 Facebook is a powerful data tool with access to many different audience segments. It's tempting to narrow your audience to that exact perfect customer (like mothers of toddlers, living in Rocky River, who graduated from Kent State, have dogs, watch Scandal, and are shopping for a new car) but this level of granularity will really limit your ad's reach. Audience targeting is necessary to make sure you're not wasting ad spend on the wrong people, but make sure your audience size contains about 3,000 people at the least. In the above example, revising the audience to mothers of toddlers, living in a 25-mile radius of Rocky River, who have a college degree might be a better fit, depending on what you're advertising. Pro tip—don't revise your audience mid campaign. Instead, start a new ad set with this revised audience and pause the old ad set. Changing the audience targeting while a campaign is running can result in poor performance of Facebook's automatic optimization.
Your budget is too low
Facebook lets you run boosted posts for as little as $5, but you get what you pay for. When it comes to Facebook ads, the more you spend, the more you get out of your campaign. When setting up your ad set in ads manager, the bar graph on the side will show you how many people you can expect to reach each day given your set budget. If you want to see significant results from your Facebook ads, I suggest budgeting at least $500 per month. If you plan on running multiple campaigns with different objectives, that budget should increase.
Your landing page isn't mobile friendly
If your ads report in Facebook shows great performance—low cost per click, high reach—but you're not seeing that reflect in the number of online purchases, phone calls, etc. your problem might be with your website and not your Facebook ads. More than half of Facebook's users access the social media site on mobile only, so if your website isn't mobile friendly, stop running Facebook ads and fix that first. Make sure that whatever you're asking people to do—fill out a form, buy something, watch a video—looks just as great on mobile as it does on desktop.
The best way to find out what works for your brand with Facebook ads is to keep experimenting—try different objectives, play around with new creative, test new audiences. It can be time consuming, and diligent tracking of results is key. If you don't have time to execute a strategic campaign, you can always let our experts handle it. Contact us at marketing@advance-ohio.com.
Save
Save
Save
https://www.advance-ohio.com/wp-content/uploads/2016/08/facebook-ads-not-working.png
315
780
Advance Ohio
https://www.advance-ohio.com/wp-content/uploads/2016/01/Untitled-1-500x122.png
Advance Ohio
2016-08-24 12:00:21
2016-08-24 10:14:18
Why your Facebook ads aren't working