Print Advertising
We offer many different print advertising solutions to the Cleveland market—including display ads, special sections, and inserts—and we can always create a customized solution to meet your business's unique needs.
For print ad specs, go here. Click here for print ad deadlines.
Newspaper Ads
Essential, trusted, relevant
The Plain Dealer is Northeast Ohio's best source for newspaper ads, offering a variety of products sure to meet your mass marketing or targeted marketing needs. Reach a million readers each week through an advertisement in The Plain Dealer, available every day via The Plain Dealer e-edition, and home delivered on Wednesday, Friday, Saturday and Sunday.
The Plain Dealer has the largest audience of any publication in Greater Cleveland and performs better with people in key demographics than significantly smaller niche publications. The Plain Dealer reaches more than 8 times as many households with incomes greater than $75,000 as Cleveland Magazine does, and The Plain Dealer reaches 7 times as many people between the ages of 18-34 as Scene Magazine does. In fact, The Plain Dealer has more readers in these demographics than either of the local magazines have total readers!1
Founded in 1969, Sun News is one of the largest chains of paid weekly newspapers in the United States. Delivered on Thursday each week, Sun News has 10 weekly newspapers serving 47 Greater Cleveland area communities in Cuyahoga, Lorain, Medina, and Geauga counties.
Sun News provides advertisers the advantage of targeted reach, a local shopping focus, exclusive local news content and popular weekly features. Sun News readers are a loyal, engaged audience–most read nearly every issue and would recommend it to friends and colleagues.
We offer many innovative newspaper ad shapes that reach beyond standard ad sizes. Contact us for ad specs and deadlines.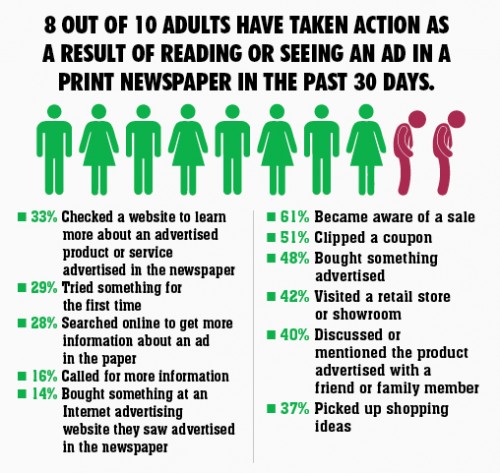 Make your message stick! Dealer Notes are printed advertisements affixed directly to the front page of The Plain Dealer and/or Sun Newspapers above the fold. Gain visibility for grand openings, special sales, events, or anything your business wants to advertise. Dealer Notes are a cost-effective method to generate quick responses and make your message front page news.
Be the first thing people notice when they pick up their morning paper. Dealer Bags are colorful, billboard-like advertisements printed on the outside of the plastic Plain Dealer delivery bags. They are a high-impact way to deliver your message, and can be targeted by geography.
Dealer bags are available every home-delivery day, including Sundays and holidays. They are great for special events, product launches, coupon offerings, rebranding, and more. You can supply the bags, or we can design and print them for you.
Special Sections
Travel. Bridal. Holiday Shopping. Back to School. Camp Guides.
These are just a few examples of special sections, published throughout the year in The Plain Dealer and Sun News. Some of the topics of the special sections have a broad appeal–like holiday shopping, restaurants, and fashion–while others are designed to appeal to smaller, niche communities–like local festivals and city guides. Reach hundreds of thousands of local readers by placing your ad full run, or target specific locations with zoned distribution of these popular special sections.
Newspaper Inserts
Extend your reach and achieve total market coverage
Inserts, also known as circulars or preprints, are where readers find the bulk of retailer coupons and advertisements. 62% of Plain Dealer readers agree that newspaper inserts influence their shopping decisions, and 69% of our readers said they used store circulars in the past 30 days.2
Inserts targeted by ZIP Code are available on Wednesday, Friday and Sunday in The Plain Dealer, and on Thursday in Sun News.
Go beyond our subscriber base and reach even more local people with the PD WrapUp, distributed on Sundays to 60,000 non-duplicated homes in key targeted core ZIP Codes.3
PD WrapUp is a four-page broadsheet insert package that includes local editorial content from The Sunday Plain Dealer, the SmartSource coupon book, and Parade Magazine. It has a loyal readership based on consumers' ability to opt-out of delivery.
Through our gang printing program, the cost savings achieved in bulk printing are passed on to you. Deliver your message all at once, or choose to split your distribution across two-to-four weeks. Either way, you'll enjoy big savings and reach local consumers via ads in full color, glossy inserts, delivered for as little as 4.1 cents per piece.
Infographic Sources: AMA Snapshot, March 2014; Newspaper Association of America, How America Shops and Spends, 2014
1. 2014 release 2 Scarborough Report↩
2. Plain Dealer recorded study 2014↩
3. Alliance for Audited Media Audit Report, The Plain Dealer and Sunday Plain Dealer, 12 months ended December 31, 2015↩